What's your favorite Saturday Night Live skit? An episode of Bronx Beat with Betty and Jodi? Justin Timberlake's D*** in a Box? Maybe you're a fan of Turd Ferguson's appearance on Celebrity Jeopardy. If you're like me, you can't pick just one because they are all so good. Surprisingly enough, there is a lot we can learn from Saturday Night Live that can be applied to local advertising. I know you usually watch SNL to kick back, enjoy a few good laughs (maybe even tears) and forget about work, but what if you discovered a few local advertising tips as an added bonus to your Saturday night entertainment?
With the approaching holiday season, let's start by looking at a holiday-themed skit that just so happens to be one of the greats: Schweddy Balls. For those of you who aren't familiar with Pete Schweddy's Christmas goodies, do yourself a favor and watch this skit.


He has "balls for every taste," just as you should have a different marketing message for each of your buying personas. If you have different targets, then you need to communicate with them in different ways in order to get them to engage with you or your content offerings. You have to appeal to every taste, just as Pete said. He knows how to advertise his treats over the air, so we should apply his knowledge of targeted marketing to our own local print and digital advertising strategies.
Cha cha boochi cha cha cha-boochi. Roll call! As we mentioned in a previous blog post, getting your employees, regardless of department or job function, engaged in your marketing efforts can help you establish, build or improve your online reputation locally and extend your reach to audiences you might otherwise have a hard time reaching, at chess tournaments for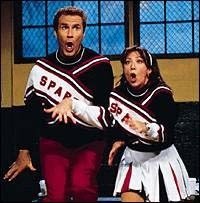 example. Your employees are the Spartan cheerleaders for your company and you need them to get the message out locally. If you can't get your employees excited about your products and/or services to the point where they promote them on social media, then you're going to have a hard time finding others eager to cheer for your company. Be aggressive, B-E aggressive (and smart) with your local advertising strategy and incorporate your employees. Ready? Okay!
(Organ music begins playing softly in the background.) And now it's time for Church Chat with The Church Lady. "Are you an advertiser or a Satan worshipper? You be the judge." You don't want to be a guest on Church Chat if you're currently a local advertising sinner, otherwise you'll get a swat on the hand followed by a mouthful of bashing from that sweet lil' lady. Be a saint, not a sinner and follow these simple local advertising tips:
Don't limit yourself to one advertising medium. Diversify using both print and digital strategies.
Pay attention to local advertising trends, so you're not the last one jumping on the bandwagon.
Be truthful. False advertising, aka lying, is a sin.
Maintain an online presence through social media and blogging.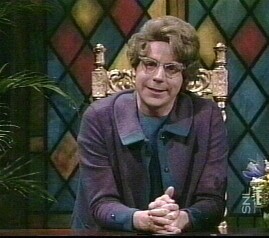 You'll want to approach local advertising so well that The Church Lady says, "Well isn't that special!" and deems you worthy of sainthood.
Just think about what you can do for your business now that you have these local advertising tips from Saturday Night Live. You'll be able to uniquely target your buying personas, spread the word about your company's great products and/or services, and avoid local advertising sins. On a more serious note, download our research report '10 Benefits of Local Advertising' to learn how to become a local advertising "SUPERSTAR!" (Smelling your armpits is entirely optional.)


Hannah Hill is a marketing specialist at Mediaspace Solutions. Her marketing experience includes writing, social media and event management. You can connect with Hannah on LinkedIn, Facebook or Google+.