National Hamburger Day is upon us. Today, May 28, is the day we, as Americans, get to celebrate the hamburger in all its glory. In honor of this holiday that far too few are aware of, let's take a look at the various creative advertising strategies that have been successful for burger giants McDonald's, Red Robin and Burger King.
McDonald's
In this video, Hope Bagozzi, director of marketing for McDonald's Canada takes us behind the scenes to answer a question that rose out of a social media campaign titled "OUR FOOD, YOUR QUESTIONS." McDonald's fan Isabel wrote in and asked, "Why does your food look different in the advertising than what is in the store?" Good question, Isabel. We'd all like to know. Bagozzi orders a Quarter Pounder with Cheese and takes it to the photo studio to compare it with a steamy hot burger model. According to the video, the food and imaging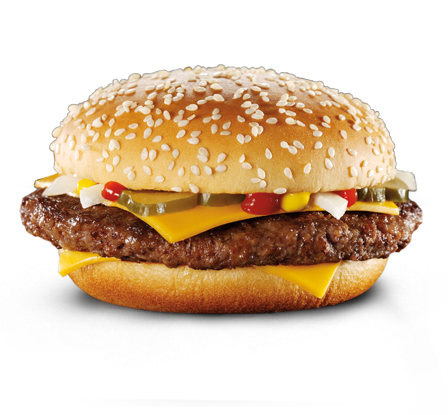 stylists at the studio use the same ingredients found in a McDonald's restaurant, only it takes them much longer to get the burger ready to say "cheese." After the burger is assembled and the photograph is taken, the imaging stylist enhances the burger's color to make the burger more appetizing to the viewer. To create the photo-worthy burger, they take the ingredients that are normally hidden under the bun and pull them to the foreground so consumers can see the all-beef patty, special sauce, lettuce, cheese, pickles, onions – on a sesame seed bun. Ah, the beauty of Photoshop. And now we know the truth about McDonald's advertising, thanks to Canada.
Red Robin
Hamburger chain Red Robin is celebrating National Hamburger Month (apparently the entire month of May pays tribute to burgers, too) with a social media advertising campaign called "A Million Reasons." Throughout the month of May burger eaters have been asked via Twitter and Facebook to tell the world why they love Red Robin. The new campaign features a social component titled "Who's Your Burger Daddy?" where site visitors can "find their match made in burger heaven." A burger daddy is a person who pays for someone else's Red Robin burgers, and the site allows you to find a burger daddy or become one yourself. Red Robin fans can post any one of a variety of reasons to convince their Twitter followers or Facebook friends to buy them a Red Robin burger or gift card. If your friends or family will need some convincing, never fear. The burger joint has provided reasons like "because love is eternal, unless you screw this up" and "because you want me to be happy and I want to help you with that." Denny Marie Post, Red Robin's SVP and CMO, had this to say of the new social campaign, "We are giving our guests a tasty chance to connect with their friends and family over Red Robin, whether they offer to be a 'Burger Daddy' or ask someone else to be theirs." If you haven't found a burger daddy yet, time is running out. You've got until June 2 to snag a free burger from a friend or family member using the tongue-in-cheek burger-grams on the website.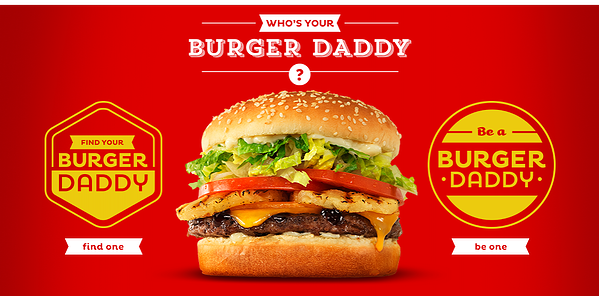 Burger King
On April 1, 1998, Burger King ran a full page ad in USA Today introducing their latest burger: the Left-Handed Whopper. I hope none of my left-handed friends fell for this April Fool's Day prank aimed at the 1.4 million left-handed, burger lovin' people who visit Burger King each day. In an effort to market the prank, BK told consumers the condiments on the Whopper were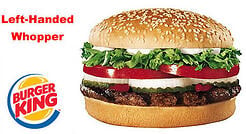 rotated 180 degrees to better suit the left-handed demographic and "fit more comfortably in the left hand." Talk about designing a campaign specific to your target market. All joking aside, the ad worked and thousands of lefties flocked to Burger King to taste the burger made especially for them. "It's the ultimate 'Have It Your Way' for our left-handed consumers," said Lorraine Thomson, marketing director for Burger King Inc. The print ad was so effective that many right-handed consumers requested the original Whopper after seeing the ad, so as not to accidentally receive the left-handed version. Burger King definitely has it going on when it comes to creating advertising and products targeted at specific markets. BK, you deserve a left-handed high five for this one. Nice work.
This list wouldn't be complete without mentioning burger joint Carl's Jr. We talked about Carl's Jr.'s latest racy TV commercial and radio spot in a recent blog post, so give it a read if you haven't already.
The next time you are drawn to a burger joint, you can thank the creative advertising campaign that brought you there, whether print or digital, real or hoax. Why don't you celebrate National Hamburger Day by picking up a burger tonight? While you're chowing down on your Big Mac, Whopper or less famous patty, read our research report on the benefits of advertising locally, something fast food restaurants know a lot about. Just try to keep the gooey cheese and messy condiments off the keyboard.
Hannah Hill is a marketing specialist at Mediaspace Solutions. Her marketing experience includes writing, social media and event management. You can connect with Hannah on LinkedIn, Facebook or Google+.