Have you ever visited a brand's website or social media platforms as a result of being exposed to a television, magazine or digital ad prompting you to take either action? If yes, you're not the only one. If no, you're probably lying based on the following statistics. According to a study conducted by Burst Media, digital ads (61.0%) and television ads (58.7%) are most effective at driving interaction with a brand's Facebook, Twitter and Instagram platforms.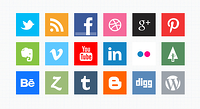 Print, radio and outdoor advertising also spark social interaction, though at lower rates. Two-thirds of those surveyed between the ages of 18 and 34 claim digital ads with social media prompts inspire them to take action, and it won't be long until social traffic increases even more.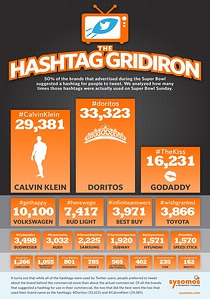 Brands continue to increase their visibility on social platforms in an effort to drive interaction with consumers. The companies that invested in Super Bowl 2013 advertising took advantage of the big game's captive audience. More than half of the commercials contained a Twitter hashtag. Sysomos analyzed the hashtags used during the game and found that hashtags containing a brand name were mentioned in the most tweets. Let that be a lesson to you. The top performers were #doritos (33,323 tweets) and #CalvinKlein (29,381 tweets). Incorporating social icons, hashtags and the like is a step in the right direction for brands who wish to increase favorability in the eyes of consumers.
"We found that marketers who use social sharing and action prompts within advertisements create authentic interactions that drive further engagement," said Mark Kaefer, marketing director at Burst Media, an online media company. "On the digital front especially, display, mobile and sponsored online content campaigns that include social media prompts can virally and exponentially extend campaign reach through consumer status updates, likes, tweets, pins and more."
Dr. Pepper's "Always One of a Kind" commercial sparked a lot of Twitter talk in early 2012.
The ad featured people in red shirts proclaiming everything from "I'm a control freak" to "I'm a cougar" and everything in-between and concluded with the hashtag #ImA to continue the proclamations online. Because the hashtag was open-ended, many people engaged in conversation with Dr. Pepper. It doesn't take a whole lot of thought to complete a sentence that starts with #ImA which is why this push to social media was so successful at increasing interaction and driving social traffic for Dr. Pepper.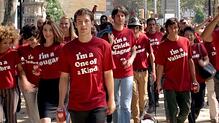 Dodge Ram released an ad during the 2013 Super Bowl that generated more than 402K social media comments, 288K more than last year's top performing spot. (Social comments were measured for both ads during the same 45 minute time period after they were initially aired.) Interestingly enough, "Farmer" did not include social media icons or hashtags, and it still drove an insane amount of social traffic. However, this isn't common. Unless your ad is top notch (or controversial), you aren't going to experience this kind of social buzz without providing some sort of social media call-to-action.
The best advertising campaigns drive social traffic and word-of-mouth marketing. The next time you sit down to watch your favorite TV show or read your favorite magazine, pay attention to how many ads push you to a social networking platform. I think you'll be surprised. Before you strike up another conversation with your Twitter followers, download the "8 Steps to Increase Advertising Success via Twitter." If you missed the Facebook checklist we released earlier this year, download it now. While your checklists are printing, download The Smart Marketer's Guide to Local Digital Advertising to learn how online media consumption has evolved across local markets and the benefits of local digital advertising.
Hannah Hill is a marketing specialist at Mediaspace Solutions. Her marketing experience includes writing, inbound marketing, social media and event management. You can connect with Hannah on LinkedIn, Facebook or Google+.