Social media has been evolving since its inception. From MySpace to Facebook to LinkedIn to Twitter to Instagram to Pinterest and so on and so forth, social media platforms just keep popping up all around us. When's the last time you went 24 hours without checking your news feed, composing a 140-characters-or-less tweet or pinning a recipe for molten lava chocolate cake to your dessert board? Here's the answer you are too embarrassed to admit: a long, long time ago. Because social media has become such an integral component of our lives (and a total time suck), advertisers want in on the action.






Recently, Facebook announced it would be updating its algorithm to increase the relevancy of its News Feed ads. "For marketers, this means we are showing ads to the people who might want to see them the most," the company wrote in a blog post. "For example, if someone always hides ads for electronics, we will reduce the number of those types of ads that we show to them." I've been known to hide an ad or two because it lacked relevance. So with this update comes the ability to more effectively target Facebook users and gives advertisers a better chance of conversion.
According to Nielsen, nearly one in two smartphone users said they use their phones while watching TV. Based on the amount of time we spend on social media each day, it can be inferred that most of these users visit a social media platform while watching their favorite shows (or during the commercial breaks). Civolution created an infographic detailing the rise of social calls-to-action in television ads. Nearly 10% of TV ads contain a Twitter hashtag, URL or logo. For Facebook that number is 6.4%. The top three brands utilizing social calls-to-action in their ads are Walmart, Warner Bros. Pictures and DQ, while the top three product categories including those calls-to-action are department stores, theatrical movie releases and beverages. As you can see from the infographic, social calls-to-action can be used in virtually any industry, and they are becoming increasingly more popular in today's advertising as they promote engagement.
The Portland, Oregon startup company Chirpify created a solution for advertisers looking to reach social users. Chirpify defines itself as "a social conversion platform for multi-channel campaigns" that drives second-screen conversions through action-based hashtags (i.e., #donate, #buy, #subscribe). An action-based hashtag, when paired with a campaign tag determined by the advertiser, is the recipe for a successful purchase via Chirpify. After your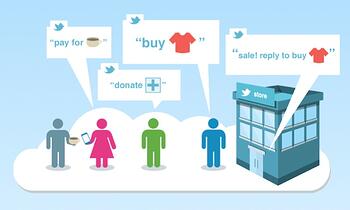 first purchase you receive a message from Chirpify with instructions for payment, but once those settings are saved, feel free to go wild with those hashtags and spend, spend, spend. CEO Chris Teso had this to say of the startup, "We wanted a way to enable advertisers and their consumers to convert in the moment on their mobile device, no matter what they were doing." All a business needs to do is display an ad on television or online (or even at a live event like a concert or football game) with hashtags specifically created for the campaign and then just wait for a viewer to publish a tweet containing the appropriate hashtags. Early adopters like MasterCard, Adidas and Forever 21 are already using Chirpify for business, and they are sure to be joined by other big brands in the near future. If you've made a purchase or donation via Chirpify, tell us about your experience in the comments section. We'd love to hear what you think.
As social media continues to evolve, advertisers will figure out ways to incorporate the latest innovations into their campaigns. If you're interested in optimizing Twitter for business, grab this FREE checklist titled "8 Steps to Increase Advertising Success via Twitter." You might also be interested in learning about the advantages of local digital advertising. If so, download 'The Smart Marketer's Guide to Local Digital Advertising.'
RELATED POSTS:
1. Top Advertising Tips for Facebook, LinkedIn and Twitter
2. The Best Advertising Campaigns Drive Social Traffic
3. How Social Media Advertising Really Won Super Bowl XLVII
4. Social Media Strategies: Not Your Grandma's Internet, or Is It?
5. Target and Facebook Team Up to Take Digital Retailing to New Heights
Image credit: The Digital Bus
Hannah Hill is a marketing specialist at Mediaspace Solutions. Her marketing experience includes writing, inbound marketing, social media and event management. You can connect with Hannah on LinkedIn, Facebook or Google+.